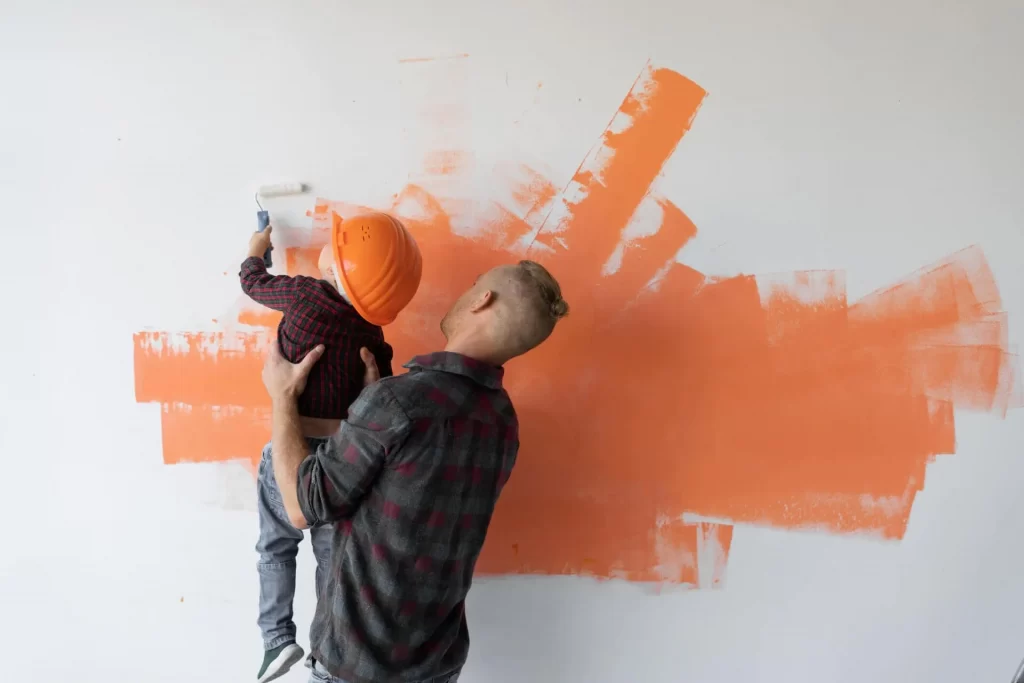 There's nothing like a fresh coat of paint, especially in a rental that has tenants in and out, leaving their mark on the walls. If you have a rental property in Menifee, Scout Property Management is here to help property owners with everything from sourcing tenants to maintenance. As a seasoned property management company, we know firsthand how important general upkeep is when it comes to rental property improvements. 
While a good paint job is expected, a bad paint job is one of the first things a prospective resident will notice. Painting is seemingly simple but requires some extra effort to make sure it goes as planned. Below, we outline several tips to keep in mind when painting your rental's interior.
Hire a Good Painter
Step one in painting the interior of your rental property is hiring a good painter. While we applaud anyone who opts to do the job themselves, keep in mind that rental property improvements aren't an area to skimp on the budget. Unlike your own personalized home, this is a space that you want to craft to appeal to as many styles as possible.
Read the reviews of painters in your area, or work with a property management company in Menifee, to ensure that the work is high-quality. If you are going to paint it yourself, more power to you. Be sure to watch YouTube videos and consult in-depth guides so that the paint is properly applied. The basic process is:
Clean the wall and get rid of any gunk
Use a roller to prime the wall
Mask the room and paint the trim
After the trim dries, put tape over it and paint the wall
Roll on paint in a "W" shape
Clean your tools so that they don't dry out
Stick with Neutral Colors
While you want your rental to look modern and up to date on trends, stay away from crazy colors like bright red or dark purple. Instead, keep a neutral and subtle palette for two reasons: so your paint job stands the test of time as fads come and go and so that nobody is majorly turned off from renting solely due to a bold paint color.
We also recommend keeping the colors light. Dark shades will overpower and take away from any natural light; some may like this but it's a risky move. Light, neutral colors will also look best in pictures that you'll need for your rental listings. That being said, bright white is likely to get dirty. Try a cream, light beige, or gray instead.
Use Quality Paint and Tools
As with everything tied to your rental, you don't want to go cheap and end up having to pay more to fix it in the long run. You don't have to get the most luxurious paint out there but do your research (or pay a professional) to find long-lasting paint that will endure some wear and tear.
The same concept goes for tools, especially if you're the one doing the painting. Make sure to invest in the following items:
Paint extension pole
Painter's tape
Edger
Roller
Paintbrush
Paint tray
Ladder
Generally speaking, one gallon of paint covers up to 400 square feet, so use that as a reference when purchasing. Try this calculator to estimate the cost of the paint you need. You'll also need to gather any cleaning products to prepare the walls and primer.
We talked about which shades to use, but there are also different types of sheen. Eggshell, satin, and flat paint finishes, which are more matte than glossy, are best to use for your Menifee rental property so that the walls are not overly shiny in the light.
Be Consistent Across Units
Another pro tip from a property management company is to use the same paint in multiple rooms and units (if you have multiple). This reason is two-fold. One aspect is saving time and money; if you stick with the same colors, any leftover paint from one property can be used at another. The second reason is that consistency will help boost your brand.
Do your properties tend to have a laid-back, California vibe? Or are they minimalist and modern?
It's smart to market yourself to the customers who you connect with, so keeping your properties similar in style will help appeal to that target audience. Plus, if one becomes occupied but a renter is still in need, they are likely to be interested in a similar rental property in Menifee.
Consider Letting Your Tenant Paint
This is less of a tip for getting a perfect paint job, but it's something to take into consideration when renting out a Menifee property.
Are you going to allow tenants to paint?
If so, the initial coat of paint needs to be especially light and neutral so that any topcoat doesn't mix poorly. Also make sure to outline any guidelines you have for painting. Is there a fee? What is to the repair cost if paint gets somewhere besides the wall? Do you have a preferred painting company for them to use?
Think through how much of a burden allowing renters to paint may add to your workload versus how much of a selling point it is for them. Clearly communicate in the lease if painting is allowed and in what capacity; for example, one accent wall may not be too much work for you to cover later, while painting a whole nursery mural may be too difficult to revert back after they move.
At the end of the day, remember that painting is an investment and it pays to make a smart decision. Put in both the time and the money to paint or hire someone to do it for you, and you may not have to repaint as often as you would if you try to avoid it. Rental property improvements increase the appeal and the value of your home, so it's worth it.
Need help figuring out everything you need to get your rental ready? Let us help. Contact Scout Property Management to start filling rentals today.